ESA.Dataintegrator
The interpreter
The ESA.Dataintegrator functions as an interpreter for a wide variety of data sources. Correct master data management is not always the sole responsibility of
OPICOM
. A superordinate ERP system or parallel partner systems, for instance, can also play a key role.
Examples
Superordinate Microsoft AX provides ESA with a database interface for synchronising orders between OPICOM and Axapta. This synchronisation or conversion of one table to another is the job of ESA.Dataintegrator.
A third-party system controls a weighbridge and saves the results to a folder as CSV files. ESA.Dataintegrator converts these CSV files to entries in the OPICOM database.
On-site control point
Maximum system availability thanks to a mobile on-site control point.
Flexible. Efficient. Everything you need at a glance!
The mobile on-site control point replaces the conventional wired on-site control points with their key-operated selector switch, pushbuttons and indicator lights. A smartphone or tablet can be used to manipulate the on-site control point for operating the drives.
Scanning a QR code
on the machine using a mobile phone app opens the control point in the mobile device's internet browser.

Operation
After logging in, the user can operate the drive in question. It can be manually started or stopped, and any other available functions can be used. Operation is very user-friendly and intuitive. Access rights ensure that only authorised users access the system. Entering a valid user name and password forwards the user to the drive.
Login
The login data is stored for a period of time as defined in the system by the administrator. This means that there is no need to log in again if the user accesses the system within this time frame. Once this time frame has expired, the user will have to log in again. If operation with a mobile device is interrupted, e.g. by an incoming call, a network connection interruption or a dead battery, or the display is sent to the background on the device, the drive stops immediately. If there is no activity on the mobile device during the defined period, the drive stops.
User administration
User administration can be used to create as many new user profiles as needed and edit or delete existing users. A login period (at the end of which the user is automatically logged out) can be specified for each user individually. Individual users can also be assigned various rights for individual plant areas. For instance, a service technician can access any machine on an entire site with his login, while the operator of a specific machine can only access the machine assigned to him.
Facts & Highlights
Context-sensitive user guidance
100% flexibility for adaptations in the production line (changed or added machines, old machines removed)
Buzzword: Industry 4.0
Communication using an internal, highly secure WiFi network
No special hardware necessary. Current, conventional mobile devices can be used, regardless of the operating system.
Wireless
Efficient
Decentralised
Simple user administration
Cost-effective
Increased protection with short intervention and reaction times when incidents occur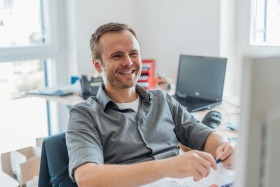 You would like to learn more about our interface connections and programs?
Talk to our experts!
Get in touch!