OPICOM
O

rder –

P

lan –

I

nformation –

CO

ntrol –

M

anagement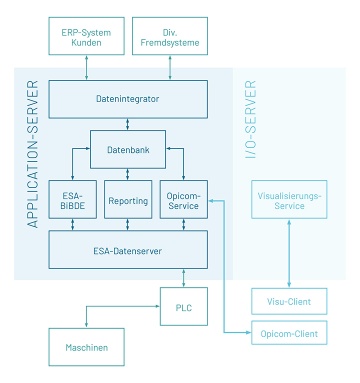 OPICOM
establishes the operational interface between the data, control system (the machines) and system operators. OPICOM enables the user to manage a wide variety of master data such as articles, formulas, machine parameters and warehousing.
Orders can be managed by OPICOM as a stand-alone system or using data imported from an ERP system. The order management system enables the user to make operational decisions and initiate automatisms based on real-time data. Production data acquisition (PDA) provides the interface between the control system and the central database.
PLC: The PLC (programmable logic controller) is the key system in a plant
PRODUCTION DATA ACQUISITION: The PDA system oversees the data exchange between the PLC and the database
DATABASE: The database stores current and historic information about the plant and products
ORDER MANAGEMENT: This is where production orders are entered and prepared for the Production department
MASTER DATA: Master data enables the control of settings for the basic system configuration and the entire OPICOM product range
MAINTENANCE MODULE: Facilitates the plant manager's overview of necessary maintenance work
WAREHOUSE MANAGEMENT: Provides an overview of current stock levels and batch history
REPORTS: Provide customer-specific analyses that can be used for efficiency evaluation
Beispiel
How does OPICOM work? (an example application)
A shipment of grain is entered into the ERP system (loading due in two weeks).

This order is transferred into OPICOM via the defined interfaces.

On the day of shipment, the user initiates the processing of the order in OPICOM.

OPICOM uses real-time data to determine the silos that are stocked with this specific raw material and the silos from which the grain should be taken, and creates a bill of material for the PLC.

With the bill of material, the user can now send the order to the control system, which starts the order and reports the current states to OPICOM.

The control system sends a report to OPICOM confirming the end of the loading process.

The operator closes the order in OPICOM, automatically initiating the printing of a bill of lading and the saving of an archive PDF on a network drive.