Key data:
Name:
Markus Kößl
Born:
1985
Position:
Projekt lead
Joined the company:
April 2006
His story:
After completing basic military service, I had the opportunity to join one of the companies that I had previously worked for during the school holidays. While looking for a long-term job, I wanted to find a company where I could put what I had learned into practice and where I would work in interesting fields and deal with a wide range of people. In the end, I came across ESA. I hadn't previously known anyone at ESA and actually found a job posting while looking for vacancies on the internet.
They wanted to add another two people to their software development team, and I was one of them. In my first few years, I learned a lot about control processes. My core expertise encompasses dividing, combining and packaging complex production processes simply and conceptually so that the customer can easily recognise their benefits.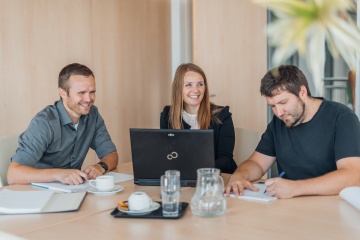 I began developing enhancements for special modules using Delphi and then went on to programming new products in Java. This resulted in the continual expansion of the range of software modules, while I tried to always satisfy customer requirements – some of them challenging – across a wide variety of sectors.
OPICOM
, our configurable, parametrisable software, has always made that fairly easy. Anything that we can't configure ourselves is then developed for the customer on a plug-in basis.
Since software developers are always looking for new challenges, there has been continuous turnover in our development team, so I am gradually moving into a leadership role. I am currently a project manager for major software projects. The company is still trying to expand the development team with new project tasks, which is why our Software Development department is now made up of six people. We are currently developing modules on the basis of .NET in order to gain the most benefit from other programming languages as well.
New, experienced colleagues have taken programmes and services to a new level, enabling us to keep up with the rapid developments in this area coupled with constantly changing customer requirements on the market. This ongoing challenge is what makes this job so interesting and is one reason why I have been with the company since 2006.