After the third place in 2020, we can proudly announce this year: ESA ELEKTRO AUTOMATION GMBH is the most family-friendly company among medium-sized companies in 2021/2022!



Be DIFFERENT, be the FIRST, be BOTH.
This year we have realized our motto to the fullest.
On May 2, 2022, we were allowed to take the stage last in our category. Why? Well, the last will be the first & thus we are happy to win 1st place within companies that have 21-100 employees.
"At ESA Elektro Automation equal opportunities and equal pay are lived. In addition, employees are offered various work models such as flexitime, home office or 4-day week. The equal opportunity plan and the plan for the support of women provide instruments for increasing the proportion of women in technical fields of activity. In addition, the apprenticeship with the study for the high education entrance qualification is promoted and part-time career advancement is practiced," according to an excerpt of the jury′s assessment.
"We want to create an internal atmosphere for our employees that goes beyond what is usual on the labor market in terms of work-life balance, attractiveness, satisfaction and health." emphasizes Managing Director Andreas Teufel.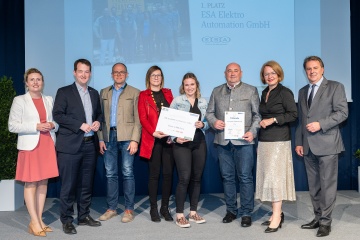 We are very happy about this award & already have an idea how we will use our prize money...